Russian tanks circulate on TikTok. In the fastest growing social network you can find videos like the one that Maria02903 recorded from her car, where you can see a column of tanks moving along an icy road, ten kilometers from Ukraine.
Videos of Russian troops on the move, taken by casual viewers, are circulating on the internet these days. There are planes, trucks, caterpillars and rockets. In a cut on February 8, a driver passes a very long line of armored vehicles that are rolling forward, a sign that they are close to their destination. In another video, a man walking his dog passes, according Washington Post, with what would be a ballistic missile rocket launcher. Many videos have been located on the border between Russia and Ukraine, where Vladimir Putin's army would have already deployed up to 190,000 soldiers.
Armed conflicts are also digital. It is so a decade ago; now multiplied. We all carry a camera, more people record images, and sharing them is an instant gesture. In 2022, any event will be broadcast in real time. It is unavoidable. But it won't stop surprising us: on TikTok, a teenager from Valladolid can jump in two seconds from watching a choreography to watching videos of Sergio Ramos at her house, and from there to a Russian MiG-31K that lands in Belarus.
The videos are a detail, but the Russian offensive on Ukraine is a conflict that has at least three digital fronts.
There is a war for information. What troops is Russia moving? Where are they? What vehicles do you have? These typical intelligence questions are now also answered with open sources. With TikTok videos and non-military satellite images. Michael Sheldon, an analyst at the Digital Forensic Research Lab, shared on Twitter two images of the Tomarovka airfield, in Russia, but just 30 kilometers from Ukraine, taken with the European Space Agency's Sentinel-2 satellite. Comparing February 5 and 15, he claimed to see a dozen new aircraft: "Each dot probably represents a helicopter. [Mi-24]".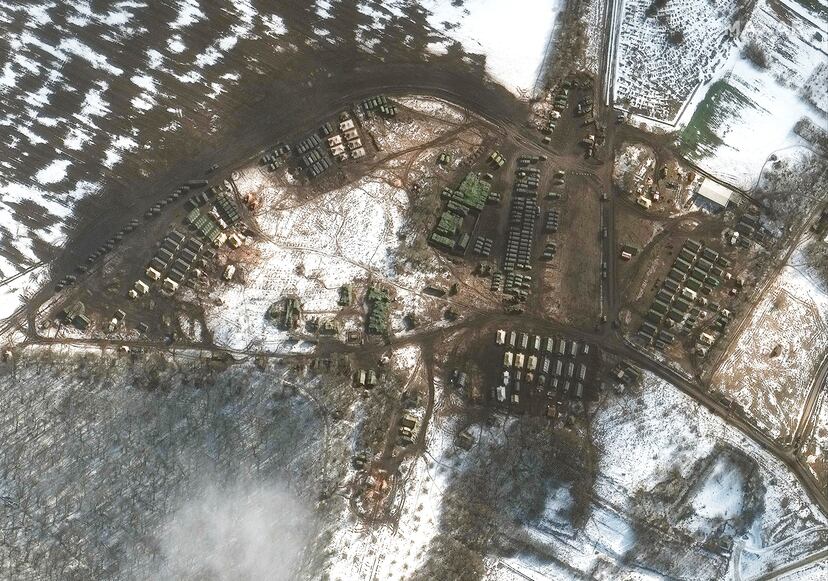 There is a war for (or against) disinformation. Anyone can share an image and pass it off as something it's not. This is what the pro-Russian separatists in the Donetsk and Luhansk regions, supported by Russia, would be doing, which in recent days have released videos accusing the Ukrainian army of attacks that they deny. different western experts question the images (the sound of gunshots in a video, for example, would be copied from an older one taken from YouTube); They believe that the complaints from Moscow were a pretext to justify the sending of troops to the region, which actually took place this Monday. In the words of former Ukrainian Defense Minister Andriy Zagorodnyuk: "None of that has happened. It is basically a virtual war, a war that exists in informational space. It doesn't exist in reality."
It is an example of the double-edged sword that is the internet. It allows investigators to verify propaganda information, wherever it comes from, but it is also a breeding ground for lies. On Twitter, Reddit or TikTok the noise is deafening.
Lastly, there is a war over information infrastructures. A strategic objective in the conflicts of the future will not be bridges or airports, but servers and computer networks. Ukraine has reported two recent cyberattacks, one in january and another In the past week. The last hack attacked government and army websites, as well as the servers of the country's two largest banks. Other previous attacks have managed to cut the electricity supply, disable thousands of computers and even supermarket checkouts. Cyber ​​attacks have been taking place in the country since 2014, in what its authorities define as a "hybrid war" by Russia against Ukraine.
But let's go back to the TikTok videos, because in them the other war will also be glimpsed, the analog one, which is the vulgar, the old, the worst and the most important. I mean the sufferer the residents of Donbas without water and without light, trapped for eight years between the Army and pro-Russian separatists. The victims of the war will also be in the viral videos, not under the frame, where we will see tanks on the snow and shells that light up the sky, but on the other side of the camera, holding a phone.