While the cheapest iPhone 13 starts at 800 euros, the most expensive – and powerful – exceeds 1,800 euros. The Cupertino company, which is aware that these terminals are not available to all users, presented a more affordable mobile this Tuesday at a virtual event: the iPhone SE, which starts at 529 euros, launches 5G connectivity and incorporates the same processor as the iPhone 13. Apple, which a week ago announced that it was putting "on pause" the sale of all its products to Russiahas also introduced a new iPad Air and its most powerful chip to date.
"iPhone SE has been a very popular choice among existing and new iPhone customers," said Kaiann Drance, vice president of worldwide iPhone marketing. The new terminal is, above all, a compact phone that largely maintains the design of its predecessor. Its 4.7-inch screen is even smaller than that of the iPhone 13 Mini (5.4 inches).
Unlike the iPhone 13, the SE 3 does not incorporate Face ID – the system to unlock the mobile with facial recognition. Instead, it has a Touch ID sensor to access the terminal using the fingerprint. This button also allows you to log in to some apps, make transactions with Apple Pay, or authorize App Store purchases. In the photographic section, Apple promises to record videos with more detail, less noise in low light situations, a better white balance and a more faithful skin tone. In addition to a 7-megapixel front camera, the iPhone SE has a 12-megapixel rear camera.
The terminal is compatible for the first time with 5G networks and incorporates the same processor as the iPhone 13: the A15 Bionic chip. Francesca Sweet, iPhone product marketing manager, says the processor is "26 times faster than the iPhone 8″. Apple does not usually reveal the RAM memory or the battery of its mobiles and tablets at its events. The terminal has 60, 128 or 256 GB of storage. It can be reserved in three colors – black, white and red – from this Friday and will go on sale on March 18.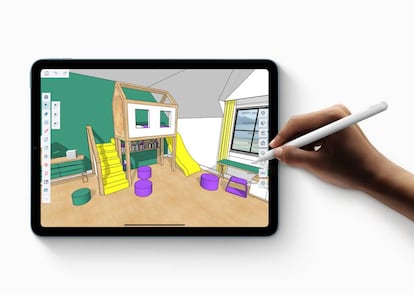 A new iPad Air and Apple's most powerful chip
In 2020 the apple company started a new era: He said goodbye to Intel chips, which he had been betting on for the last 15 years, and brought his own Apple Silicon processors to computers. His first chip, the M1, it arrived last year on the iPad Pro. Now the manufacturer also incorporates it into the new iPad Air, which opens 5G connectivity. "The unrivaled performance and efficiency of Apple Silicon make the magical iPad experience possible, from its versatility and portability to its exceptional battery life," said Tim Cook, Apple's CEO.
The design of the new iPad Air is quite similar to that of its predecessor. It maintains the 10.9-inch screen and stands out for its totally flat sides with rounded corners. The front camera goes from 7 to 12 megapixels and incorporates the function "focused frame", which uses machine learning to follow the user and focus on them if they move while speaking. On its back, it has a wide-angle sensor that is also 12 megapixels. The tablet, which has 64 GB or 256 GB of storage, can be reserved from this Friday and will be available from March 18 from 679 euros.
The tech giant has also unveiled its most powerful chip to date: the M1 Ultra. John Ternus, Apple's senior vice president of hardware engineering, has called it "a monster." "The M1 Ultra marks a turning point in the history of Apple chips that is going to shock the PC industry," added Johny Srouji, Apple's senior vice president of hardware technologies. This chip, which incorporates 114,000 million transistors, will be available in the new Mac desktop computer Studio.La The company has also introduced the Studio Display monitor, which has a large 27-inch screen and can be connected to any Mac.
You can follow EL PAÍS TECNOLOGÍA at Facebook and Twitter or sign up here to receive our weekly newsletter.
Exclusive content for subscribers
read without limits